Sailing Catamaran RB 42'
Own design and engineering, this vessel is studied and developed to run a charter business or being an excellent living aboard.
Can be completed as a workboat or as a luxury blue water cruiser, different kind of rig, layouts, engines, are available.
A basic version is available at an incredible price, ready to sail away, including 2 Yanmar 27 hp diesel, 10 berths, roll bar, hydraulic steering, and all Harken equipments.
The boat can be built out of ply/epoxy, coremat sandwich of fiberglass, foam or balsa core, following the recommendations of Diab Australia.

RB 42 Base (Plywood, outboard motors, charter vessel).
RB 42 Luxury (Honey comb construction, 2 x 20 hp sail drive motors, luxury interior).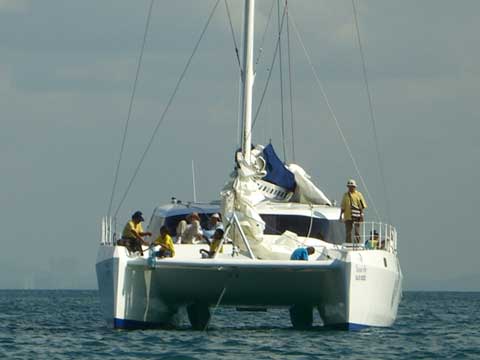 Click to zoom the images below.
Cat42 Adventures
A day with my friends

Cat42 thinking: "Today i feel so excited waiting for my friends!"

Oh, oh! So many friends?

But it is ok, cause i am very, very strong.

So let's go!

And now the sail up.

Nice sail no?

What better of this? My friends are happy and i am happy too. See you soon!