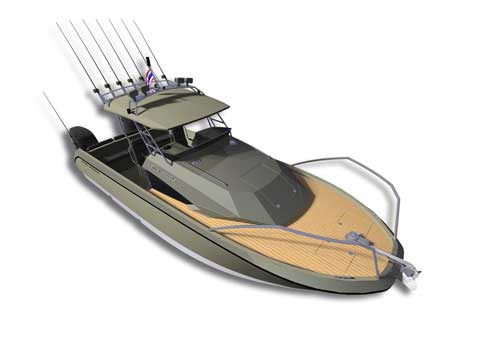 A new project started:

A small and fast 26' catamaran... more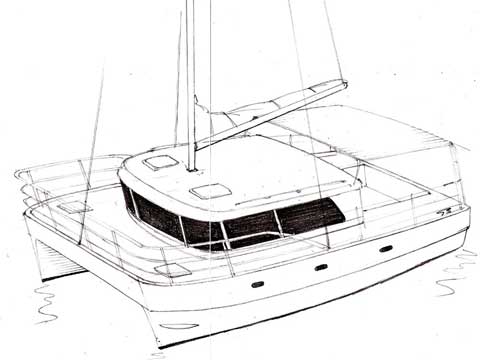 Coming up soon
A new design, right now under completion.
We expect to start the construction of the first prototype within a couple of months. Naval Architect Albert Nazarov is working on a small but extremely roomy sailing catamaran that could be used efficiently as motor boat as well... more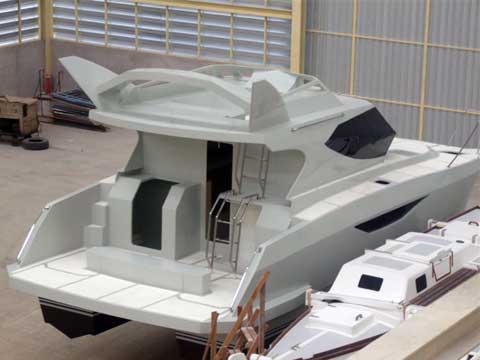 Sandwich coremat construction.
Powered with 2 x 240-300 hp Yanmar or Volvo motors, top speed over 40 knts.
Full head room... more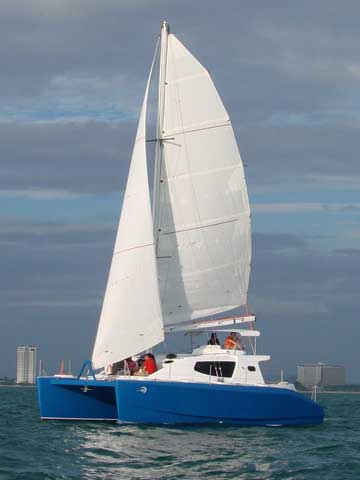 Our production of this new RB 34 is begun, we sold 4 units within few months and the first unit is finally ready.
Our RB 34 is a new concept that is specifically studied to be a safe and fast enough family cruiser, with plenty of space, where to store equipments and plenty of galley and accommodation; and a small but very functional charter vessel.
Some of our clients are particularly interested in combining these 2 targets: a boat that can be used for the family and in case can provide some turnover, to pay the Marina fees, for example.
For clients willing to keep the boat in Thailand, we offer a unique financing plan, till the 40% of the value: please inquire.
We got 2 models, available to be ordered and with a delivery time of about 8-10 months:
RB 34 Base (Plywood / outboard motors) Please enquire us for the price..
RB 34 Luxury (Honeycomb construction, luxury interior, 2 x 14 hp sail drive Yanmar inboard motors)... more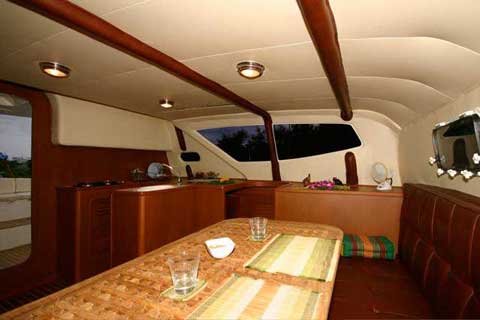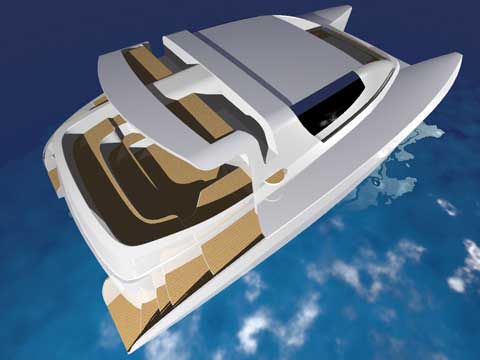 Coming up soon
For customer that are looking for a family cruise... more

Powered with 2 x 300hp stern drive.
3cabins and 2 heads.
Large flybridge.
40+ knots.

Plywood - epoxy construction.
Angelo Lavranos, naval architect designer.
Heavy duty, living aboard vessel.
This boat is ready to sail around the world at an unbelievable price ready to sail away, included the rig and an outboard motor fit inboard.
Custom made interior, plenty of space and storage.

Our 36 is a nice Angelo Lavranos design, with less payload then the RB 34.
Excellent cruiser and potentially a good racer. Nice living aboard for a couple and good machine for long cruises and passage making.

RB 36 Base (Plywood / outboard).
RB 36 Luxury (Honey comb construction, luxury interior, 2 x 14 hp sail drive motors).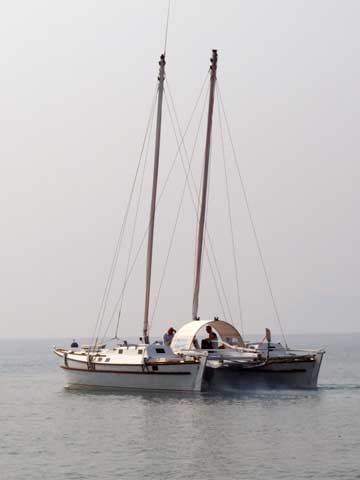 RB Power & Sailing has been requested to build a Tiki 38 based on the well known and appreciated design of James Wharram... more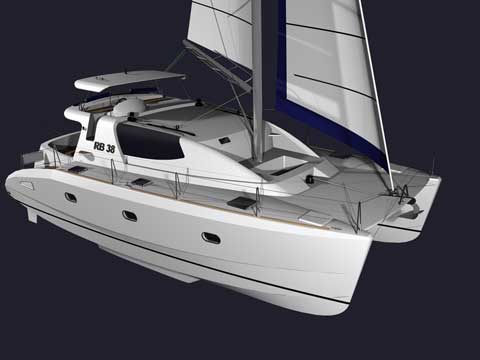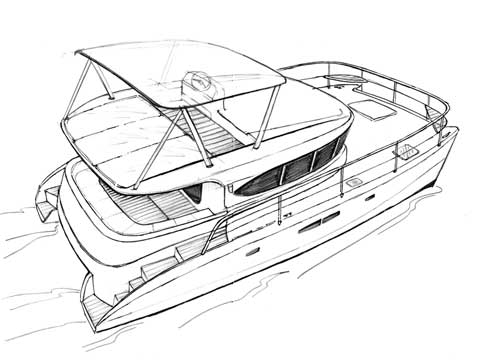 This new design is the result of few years of development and is a good option for who is looking for a modern power cat for cruising or charter... more
HK 40 is our new catamaran motorsailer.
Studied in order to maximize the space aboard, it is an excellent charter vessel and a very comfortable long range cruiser for a family.
Can be powered with 2 x 30 hp till 2 x 50 hp Sail Drive Yanmar, depending on the range.... more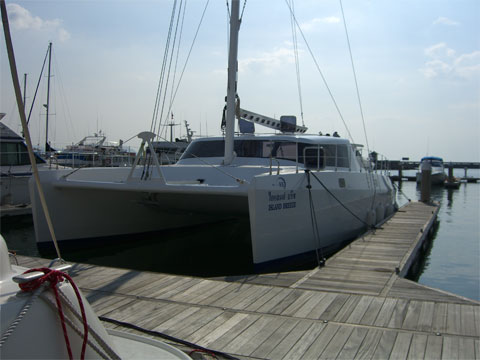 Own design and engineering, this vessel is studied and developed to run a charter business or being an excellent living aboard.
Can be completed as a workboat or as a luxury blue water cruiser, different kind of rig, layouts, engines, are available.
A basic version is available, including 2 Yanmar 27 hp diesel, 10 berths, roll bar, hydraulic steering, and all Harken equipments.
The boat can be built out of ply/epoxy, coremat sandwich of fiberglass, foam or balsa core, following the recommendations of Diab Australia.

RB 42 Base (Plywood, outboard motors, charter vessel).
RB 42 Luxury (Honey comb construction, 2 x 20 hp sail drive motors, luxury interior).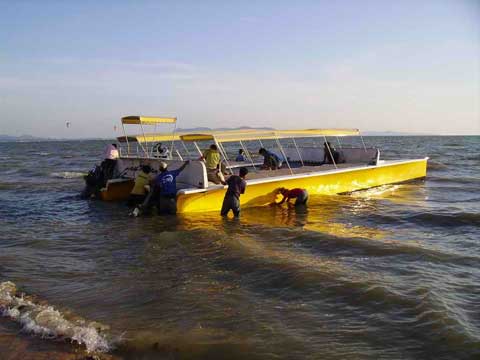 24 passengers + luggage.
Wave piercer concept.
Light sandwich epoxy construction.
Unsinkable with foam reserves of buoyancy.
Can be disassembled in few minutes of work.
Delivered worldwide, can fit a container 45'.
Hydraulic steering.

Ideal for lakes, big rivers, diving and fishing boat, party boat, carry passengers.
Powered with 2 x 36 KWA motors, 24 batteries.
6 hours of running time.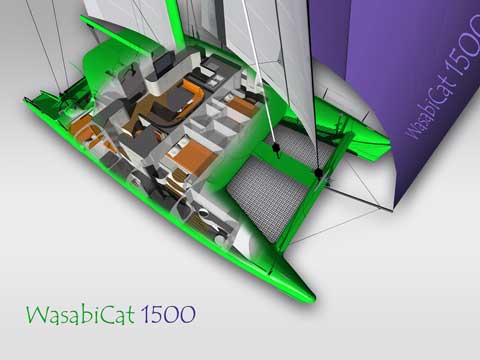 New design for a Portuguese client, who will sail alone around the world with this vessel... more

We are used to receive during the years a number of requests for a 45' blue water cat and the result is the SV 45... more

Our newly designed catamaran 45', 2 extra cabins compared to the 42.
Extremely roomy foredeck.

RB 45 Base.
RB 45 Luxury (Honey comb, 2 x 30 hp sail drive motors, luxury interior).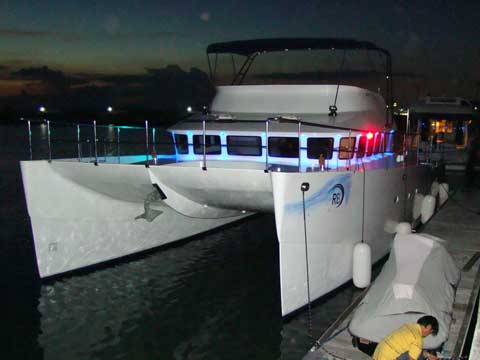 Powered by 2 x 75 hp until 2 x 350 hp Yanmar (depending by the speed and range required) conventional shaft, with a cruising speed of 10 to 15 knts.

Top speed of 20 knts.

RB 50' is a real passage maker with a range of over 2,000 nm... more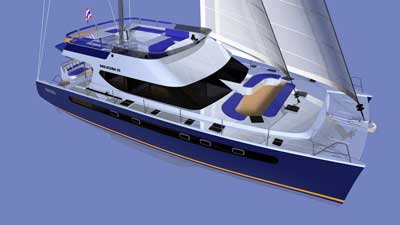 Available as Power or Sailing Cat.
A fantastic opportunity to build a huge charter machine or a nice family cat, with an affordable price... more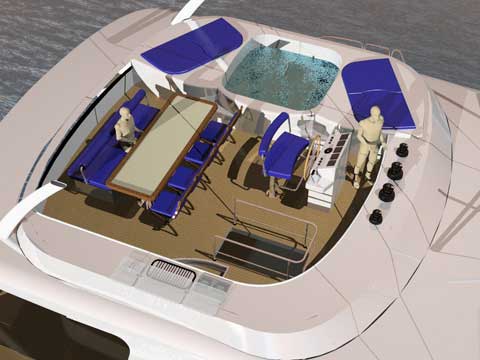 Coming up soon
This is the second generation of our RB 60, sailing cat.
A light displacement boat, with sandwich coremat hull and honey comb superstructure. All the furniture, soles, out of Nida core sandwich.
The structural designs are nearly complete and the construction of the first unit will start shortly, surely by this summer.
This vessel is characterized by a spectacular fly bridge, with electric captive winches and a large size jacuzzi.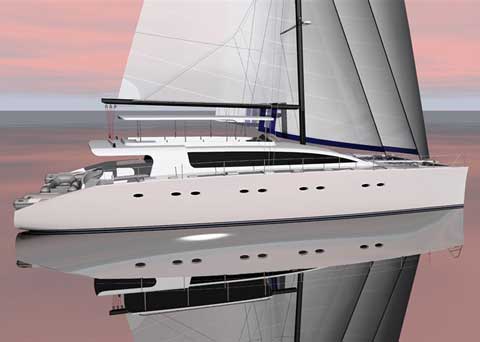 This is the ultimate charter machine for anybody that is willing to run a
long range charter business or needs to accommodate even 20 guests in 10 +
cabins ... more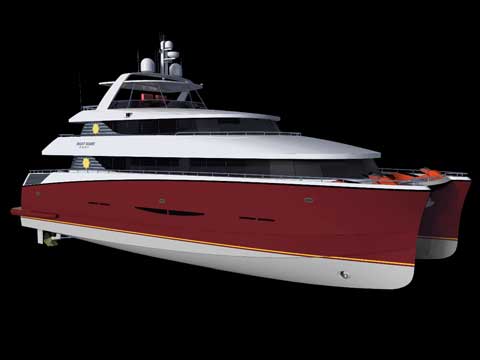 The whole concept of Megabyte 75 is perfect for cruising and receptions on board. Catamaran scheme allows really spacious accommodations at few deck levels as well as shallow draft... more
For the prices, please check the Prices Page